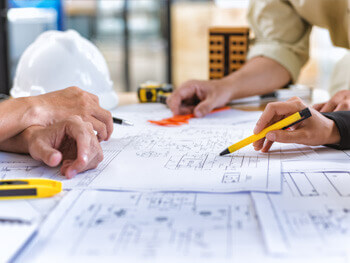 At Marelich Mechanical, we focus on your project completion goals right from the start. Our preconstruction and design-build experts get involved early, so we can:
Offer value engineering insights and innovative ideas
Collaborate with other trades to help ensure smooth delivery
Maintain synergy between engineering and construction
Maximize quality control
Help reduce project costs and shorten project schedules
Single Source, Multiple Benefits
As a fully integrated design-build team, we deliver complete design and construction under one contract with a single point of responsibility. Our continuous value engineering throughout your project helps to:
Accelerate project completion
Define accurate project costs early
Enhance constructability
Streamline communication
Reduce owner risk and coordination costs
Avoid multiple contractor markups
Identify the right means, methods, and systems for your needs
Allow for prefabrication
Improve your profitability potential
Accountability from Start to Finish
Our in-house engineers and construction professionals bring decades of experience to help you design your project from the ground-up or improve your existing design, all while providing real-time feedback.
From conception through completion, we take responsibility not only for the design, but also for meeting your overall performance, schedule, and budget requirements.
Contact us today to learn more about our design-build capabilities.