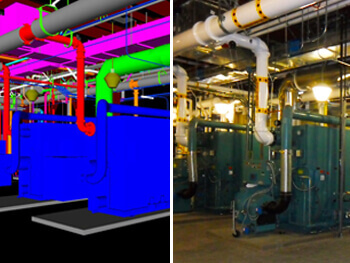 Marelich Mechanical leverages BIM to help ensure faster delivery of better-built facilities and significantly more efficient ongoing management and cost control.
Streamline Project Planning and Coordination
BIM brings everyone involved in every project phase to a central place early—and maintains connectivity throughout the project lifecycle. It allows multiple disciplines to simultaneously create and enhance 3D models, giving immediate review and comment capability. Through BIM, your project team is able to:
See all systems throughout facilities before ground is broken
Spot potential collisions or issues early to help save time and money
Explore design alternatives
Build upon and share each other's progress, fostering problem-solving innovation
Improve Constructability
Not only can our BIM coordination help you avoid conflicts in the field and reduce project costs, BIM can also:
Better define your project early to improve budget accuracy
Optimize prefabrication designs for manufacturability
Help increase site safety
Provide consistent communication over long-term projects
Maximize end-result accuracy through continual collaboration
Reach out today to learn more about our BIM capabilities.